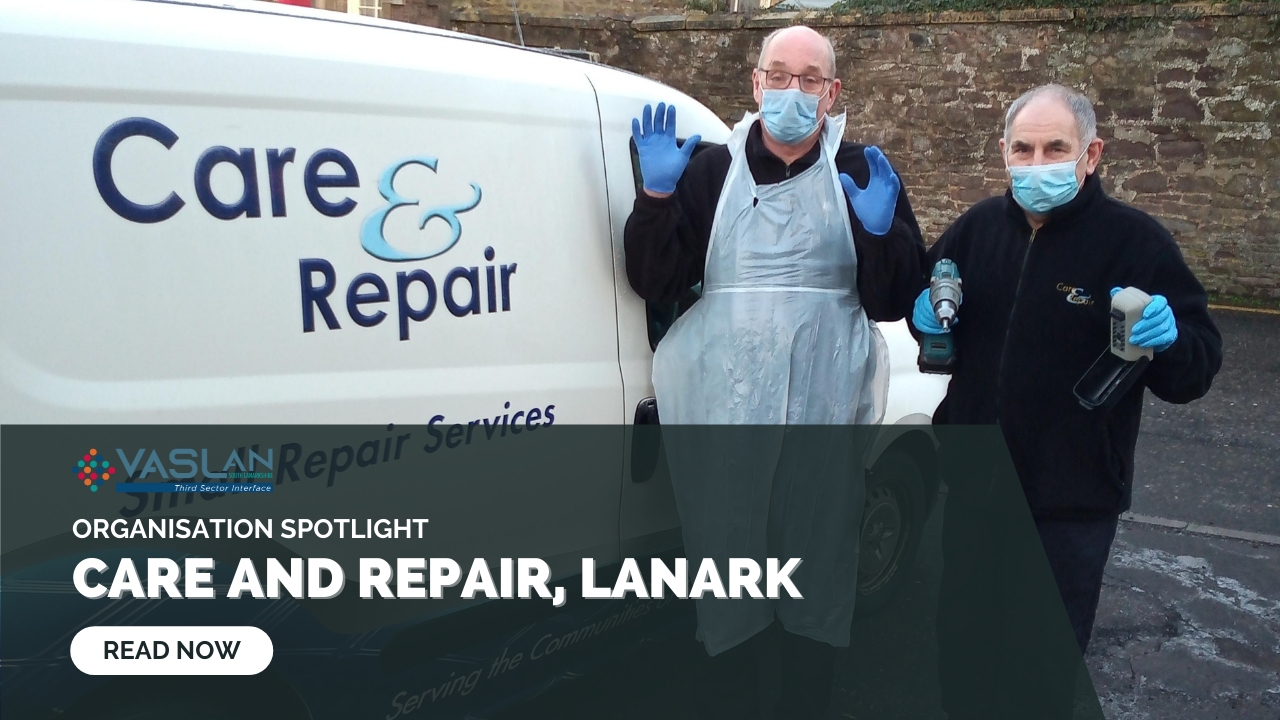 Care and Repair started in Scotland in the 1987 with the aim to improve the quality of people's lives who were living in poor accommodation. There are currently 30 C&R services in Scotland, with the service starting in South Lanarkshire in 1996.
The purpose of Care and Repair is to assist elderly, disabled and vulnerable people living in privately owned or privately rented accommodation in South Lanarkshire by providing a person-centred approach to delivery of assistance. The Safe as Houses Service and the Small Repairs Service also assist elderly, disabled and vulnerable clients however clients from all tenures where appropriate can be helped. 
Care and Repair have been helping clients throughout lockdown using appropriate precautions and ppe but look forward to restrictions being relaxed  that will allow them to carry out more work. Even with reduced restrictions Care and Repair staff will continue to use appropriate PPE to protect clients. During lockdown they managed to carry out many urgent small repairs and fitted free solar lights in the Lanark area for those who are at risk of falling or feel vulnerable.
They have also been able to purchase lifeline tubes which can be stored in a client's fridge with important medical and personal information which can be found by emergency personnel – these are available on request.
The reintroduction of the Small Repairs Service post COVID-19 will be fundamental to the C&R's ability to develop into new areas that will further support elderly, disabled and vulnerable clients in South Lanarkshire.
To this end they will be rolling out the Domestic Fire Prevention project across Lanarkshire to meet new legislation in 2022 and investigating funding opportunities to develop:
Enhanced falls prevention in the home

Electrical safety in the home

Energy efficiency measures

Dementia mitigation measures

Gardening assistance, where the gardener is no longer able.
"In our experience anything beyond the simplest work adds a huge amount of stress and worry on to family who are already dealing with a life limiting illness or disability and possess little of no technical expertise of building or dealing with contractors.
Our Care and Repair Officers are able to support clients throughout the work required and will ensure that work is carried out in a professional manner, that meets the specifications required, is value for money and meets the requirements of the client."
To find out more, head to Care and Repair's website:
https://careandrepair-sl.co.uk/
Contact details:
enquiries@careandrepair-sl.co.uk
Tel 01555 666 200
Care and Repair in South Lanarkshire
6a Hope Street
Lanark
ML11 7LZ