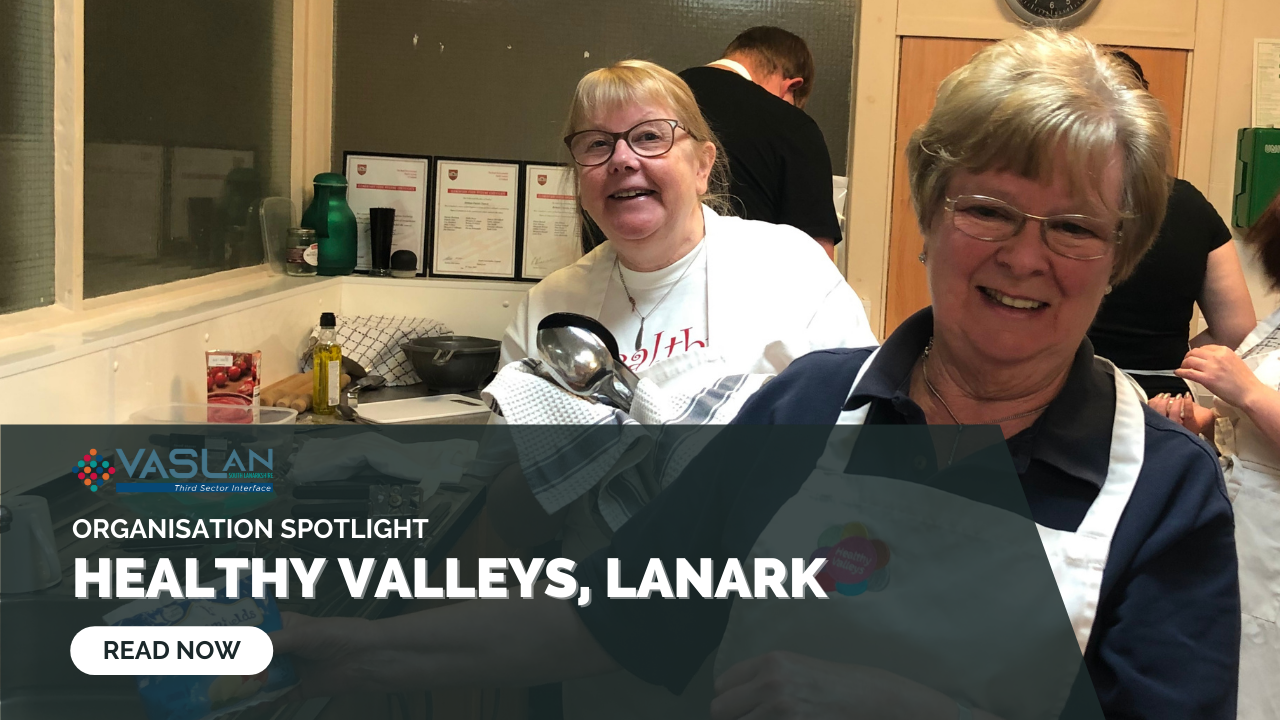 Healthy Valleys is a community-led health improvement charity that supports communities in rural South Lanarkshire. They focus on providing opportunities for local people to improve their health and wellbeing and build stronger communities in areas of deprivation or where there are service gaps. Their resilience is their strength allowing them to quickly adapt to support the ever-changing needs of the community since 2003.  Their vision is to reduce health inequalities in rural South Lanarkshire and enable people to live healthier and happier lives.
The organisation is structured into three thematic teams-
Resilient People

- Working Together Towards Better Wellbeing
Resilient People supports adults and older people to build independence, improve their confidence and mental health whilst combating isolation and loneliness through social prescribing, intensive one to one support and group work.  Programme activity includes, buddying, mindfulness, anxiety management, stress management, CBT and peer support.
Resilient Families

- Supporting Bump to Baby and Beyond
Resilient Families supports women through pregnancy and families with children under 5; delivering intensive one to one support and a range of educational parenting programmes.  Programme activity includes buddying support to anti natal and other healthcare appointments, baby massage, yoga, weaning and practical cooking, play@home, oral health and lots more.
Resilient Communities

- Connect, Support, Nourish and Thrive
Resilient Communities tackles food poverty, social isolation and loneliness through the provision of various group work opportunities that promote physical health and wellbeing for children, young people and adults.  Programme activity includes practical cooking courses, food and nutrition workshops, community food larders, yoga, health walk programme, walk leader training. Healthy Valleys are REHIS accredited, enabling them to deliver certificated training courses (Practical Cooking, Food Hygiene & Food and Health, Eating Well for Older People).  They deliver afterschool and holiday clubs for children and young people. Their new Active Travel programme will be launched this Spring. 
Volunteering is at the heart of everything Happy Valleys do, and they have an amazing team of volunteers with many opportunities to get involved in any of the areas of service delivery above. They are always looking to recruit new volunteers, so if you have time to spare, want to get involved and make a difference to people's lives, please get in touch.
"It is one of the most rewarding things that that I have done in a long time and something I would like to be associated with going forward and into the future. It is genuinely making a difference to people's lives – both volunteers and the beneficiaries" Healthy Valleys volunteer
To find out more or to see what activities are on: